"Do not boast about tomorrow, for you do not know what a day may bring" Proverbs 27:1, ESV.
My hopes and dreams are constantly changing, but there are a few things I know for sure.
I want to mentor others either one-on-one or as a role model. Only through the support of others have I been able to get where I am and I'd like to pass on the favor. Everyone has their own unique story to share and I find joy in helping others discover their own story, woven in God's tapestry of grace.
I want to be involved in youth development either within traditional education or through clubs and camps. There is so much untapped potential in our young people that is too often discouraged from developing.
I want to empower others to do their best by supporting them financially or through the use of my accounting skills. Some people are extraordinarily gifted in larger management schemes and can get weighed down by the details of the business. My goal is to excel at synthesizing complicated data and interpreting it to provide the necessary information for critical management decisions.
I've already seen this at work during my internships in the relationship between the CFO and the CEO. Both are exceptionally talented in business and know their way around numbers, but they work as a team to get the job done. There is a clear communication of expectations and a mutual respect between them. Throughout my interactions with the CFO, I got to see his dedication to excellence and ethics and how he would prepare his presentations to minimize distractions and maximize the communication of critical information. These are some of the characteristics I would like to emulate in my own work as an accountant.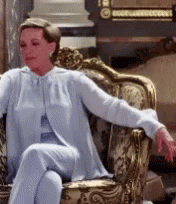 Many of my future dreams are inspired by others' examples. I want to be generous like my father, dedicated like my mother, and classy like Julie Andrews. As I live life, I meet wonderful people doing wonderful things that motivate me to go out and do my own wonderful things. Sometimes, that wonderful thing is as small as cheering up a friend, but some day, maybe when I least expect it, it could be something marvelous.
Thank you for following along and reading my story. I look forward to interacting with your comments and learning more about your story!
———–
To keep updated on my career, please connect with me on LinkedIn! To view my resumé, click here.
Gif source: tenor
Save
Save
Save